Fardon Webhosting & Design
P.O. Box 1407, Potts Point NSW 1335
Ph: +61 412 695182
ABN: 931 274 839 23
©2009 Fardon Webhosting & Design
Website Design
When it comes to Internet & I. T. requirements and web design for your business, Fardon Webhosting & Design is your perfect choice.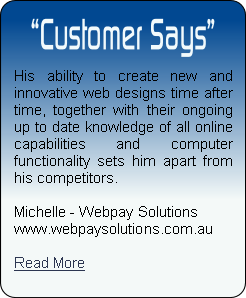 As of December 2007 Australia had over 15 million Internet users with more connecting every day. This equates to 74.3% of the population. Having an Internet presence has become mandatory for any business wanting to survive in a world where potential customers surf the net for information on products and services.
Fardon Webhosting & Design will tailor a solution to meet your business requirements. We will design it and simplify it to allow you to update your web site without any web design knowledge (If you can change text on a word document you can update your web site. Self update capabilities on request only).
From informational website design to complex data basing and e-commerce we will equip your business with an affordable tool that allows you to increase exposure and aid in the growth of your business.
What not to do with web design
Many of my clients ask if I could design their web design using flash. For those of you that haven't heard of flash, it is a method used to create animations on the Internet.
The simple answer is, yes, I can do a website design in flash. The not so simple answer is that I strongly advise against too much flash in your website design and around web sites for many reasons. One of the main reasons is that flash , whether it be text or pictures or a mixture of both, is a movie, and therefore does not have any text embedded in it that a search engine can read. This can lower the way search engines rate you and therefore hinder your attempts at increasing sales.
Contact Fardon Webhosting to find out more about web design
Search Engine Optimisation
The planning of your website should be done carefully. Think of your target audience. What would they want? Are they elderly? Or teenagers?
Site structure needs to be thought out to maximise exposure to search engine spiders and to list highly in search engines like Google More information on this can be found on the SEO page of our site.
There are many more rules, do's and don't etc for designing and marketing an effective website.
Contact Fardon Webhosting to find out more about website design